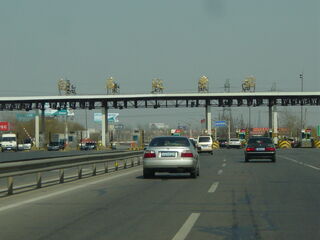 The Baimiao Toll Gate (白庙收费站) is a toll gate which exists at the eastern extremity of the Jingha Expressway.
All passenger vehicles are charged a uniform toll of CNY 5, which rises with the load a vehicle carries, both in terms of the number of passengers and the load of any freight.
There are 5 lanes in each direction. Passage is relatively quick.
A relatively disused police checkpoint follows immediately to the east of the toll gate.
In late August 2005, the toll gate was ripped apart and only individual toll booths existed for a short time. The toll gate was rebuilt for October 1, 2005, China's national day holiday.