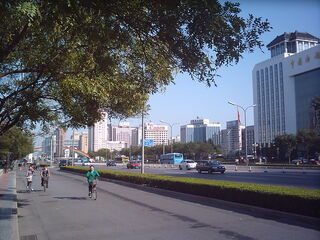 Chang'an Avenue (长安街) is a major through route in Beijing. It runs through the heart of Beijing, right across Jianguomen, Wangfujing, Tian'anmen, Xidan, Fuxingmen and Gongzhufen.
Strictly speaking, it only encompasses West Chang'an Avenue and East Chang'an Avenue. Less strictly speaking, it encompasses the stretch from Fuxingmen on the Western 2nd Ring Road through to Jianguomen on the Eastern 2nd Ring Road.
In very broad terms, it refers to the stretch of road (the Extended Chang'an Avenue, 长安街延长线) as the route from Shijingshan District through to Tongzhou District, including portions of the Jingtong Expressway. This would start from the eastern gate of Shougang (Capital Iron and Steel Company) and would end at Beiyuan in Tongzhou.
The Beijing Wiki considers it to be the road from Fuxing Road through to the beginning of the Jingtong Expressway (E. 5th Ring Road). Others have defined it as the road from Shijingshan Road through to Dawangqiao on Jianguo Road.
Sections of Chang'an Avenue
[
]
Note: The Beijing Wiki considers Chang'an Avenue as the major through road from the W. 5th Ring Road through to the E. 5th Ring Road, which defines larger urban Beijing.
Fuxing Road

Fuxingmen Outer Street

Fuxingmen Inner Street

West Chang'an Avenue

East Chang'an Avenue

Jianguomen Inner Street

Jianguomen Outer Street

Jianguo Road
History
[
]
Advertisements
[
]
Beijing's local laws explicitly ban any kind of large, outdoor ads on Chang'an Avenue (within the 2nd Ring Road. Busses with ads on them are also not allowed to pass through unless a special event in the capital forces some kind of rearrangement and reallocation of the busses. Ads previously existed in the 1990s (there was, for example, an ad by GoldStar at the Dongdan crossing), but were gone by 1999.
Additionally, any ads or slogans taking the form of banners being hung on lamp-posts are also banned.
Restricted Vehicles
[
]
Lorries are not allowed to pass through at any time of the day (this is limited to the stretch within the 3rd Ring Road). Vehicles carrying dangerous loads are not allowed on Chang'an Avenue.
Vehicles which may not pass through Chang'an Avenue from 7:00 through to 20:00 include the following:
Jeeps (except those with a green, eco-friendly sticker affixed on the front window)
Motorcycles
Passenger vehicles (less than 1000 cc)
Buses (except public transportation buses or licenced buses)
Taxis carrying no passengers
The bus lane rule applies daily from 7:00 through to 20:00. The rightmost lane is reserved for buses. Different conditions apply for the stretch near Zhongnanhai, where the bus lane rule applies from 7:00 to 9:00, and again from 17:00 to 19:00.
Left Turns
[
]
There are very few places on the section of Chang'an Avenue inside the 2nd Ring Road where left turns are allowed. Approximately 90% of all crossings have a prohibition on turns to the left.