Jingcheng Express Road Link Road Conditions

No hinderances on this road. No access yet from the

4th Ring Road

heading into central Beijing.
---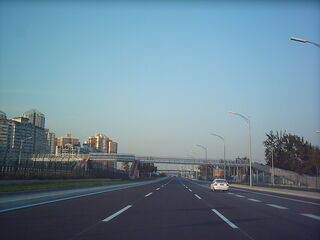 The Jingcheng Express Road Link (京承快速联络线, Hanyu Pinyin: Jingcheng Kuaisu Lianluoxian) is a 2 km long city express road with expressway characteristics.
It links the Jingcheng Expressway from the 4th Ring Road to Taiyanggong Bridge on the 3rd Ring Road.
At present, only the route heading out of Beijing is open to the traffic. The road heading into Beijing is interrupted as of Wanghe Bridge, due to land disputes.
The road heading out of Beijing from the outer ring of the 3rd Ring Road was originally scheduled to open on September 28, 2004. Having opened for a short while in the early afternoon, it was quickly closed due to cases where local residents, apparently unaware of the sudden opening, stranded on to the express road. It was reopened on September 30, 2004 for good.
The road leaving Beijing from the inner ring of the 3rd Ring Road exists as an extended portion of Taiyanggong Bridge. This stretch of the express road link was opened on September 1, 2005, and provides an alternative to the Badaling Expressway between the 3rd Ring Road and the 6th Ring Road.
At its beginning in Taiyanggong Bridge, lanes were expanded from three to four as of September 1, 2005, to allow traffic to access Taiyanggong exit easier.
Warning: Local residents apparently are unaware of the existence of the road. There may be people on the pavement of roads "chilling out" in the late evening in the summer. Don't run anyone over!
Exits
[
]
Symbols:

= exit (

= closed),

= main interchange

Exit #
English/Pinyin Name (Bridge)
Chinese Name (Bridge)

3rd Ring Road

(Taiyanggong Bridge)
三环路 (太阳宫桥)

Taiyanggong

太阳宫

4th Ring Road

(

Wanghe Bridge

)
四环路 (望和桥)