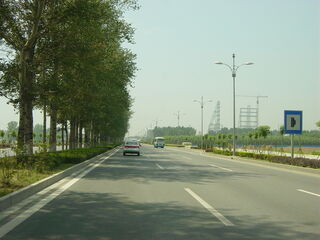 Jingzhou Road (京周路, Hanyu Pinyin: Jingzhou Lu) is a road which runs from the Jingliang Roundabout in southwestern suburban Beijing through to Zhoukoudian.
History
[
]
Jingzhou Road started out as a 2nd-grade road. However, it some became home to massive traffic jams. The authorities took four years to completely repair the road. Through Liangxiang, the road is has now been upgraded to a city trunk road, while the section running from Fangshan to Zhoukoudian has been upgraded to 1st-grade road status. The reparations were completed on December 20, 2004.
Route
[
]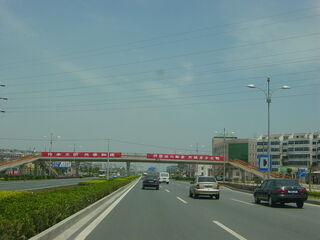 Jingzhou Road is linked into central Beijing (Guang'anmen) by Zhoukoudian Road, a lower-quality local road running through Changxindian and relaying with Yungang.
The section in Liangxiang is particularly generous, with multi-lane, wide-open carriageways. A lot of work has been put into "greenifying" the road and it blends well with the surroundings.
Several new bridges have been built in the stretch to the southwest of Yancun, with connections to Doudian, amongst other places.
There is an interchange with the Jingshi Expressway and the 5th Ring Road. The road passes below the 6th Ring Road (there is an indirect connection to the ring road).