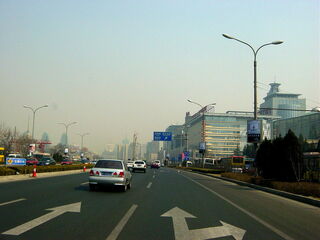 Xizhimen Outer Street (西直门外大街) is a city express road in western central Beijing. It starts from Xizhimen Bridge on the northwestern 2nd Ring Road and heads further west until Zizhu Bridge on the western 3rd Ring Road.
In 2000, the road was widened, traffic lights were done away with (on the trunk road), and several underpasses were built. The roadworks lasted until 2001. The road, formerly just a trunk road, became Beijing's first city express road after the term was coined.
In late 2004, there were plans of building a city express road which would stretch west to the 5th Ring Road, going over what is now Xingshikou Road.
Speed limit on Xizhimen Outer Street is 60 km/h. Beware of cameras at Beizhan Bridge and near New Baishi Bridge!
Exits
[
]
Symbols:

= exit (

= closed),
= main interchange

Exit #
English/Pinyin Name (Bridge)
Chinese Name (Bridge)
2nd Ring Road (Xizhimen Bridge)
二环路 (西直门桥)

Beijing Zoo

,

Beizhan

(

Beizhan Bridge

)
北京动物园, 北展 (北展桥)

Shouti South Road

,

Zhongguancun

(

New Baishi Bridge

)
首体南路, 中关村 (新白石桥)

3rd Ring Road

(Zizhu Bridge)
三环路 (紫竹桥)